Frenectomies – what you need to know to make an educated decision for your child
If your child's Pediatrician or Pediatric Dentist has recommended a Frenectomy it's likely you want more information so you can make an educated decision about his or her care.
Let's explore Frenectomies – what they are, the reason they can be necessary, the types which may be recommended, and the risks involved.
What is a Frenectomy?
The Frenum is a piece of tissue which connects to the mouth in two places –  the base of the tongue and beneath the upper lip. A Frenectomy is a simple procedure done to remove this connective tissue.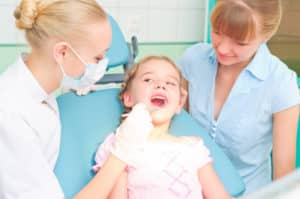 Why are they necessary?
There can be a couple of reasons your Pediatrician or Pediatric Dentist is recommending a Frenectomy for your child.
A condition called Ankyloglossia is most often caused by an unusually thick, short Frenum connecting the underside of the tongue to the floor of the mouth. This condition causes children to have difficulty with speech, and can make it challenging for an infant to breastfeed. If not corrected, children with this condition may change the position of their jaw in an attempt to make speaking easier – but this can result in future orthodontic issues and/or pain.