You can prepare your child for a successful and pleasant
first trip to the dentist.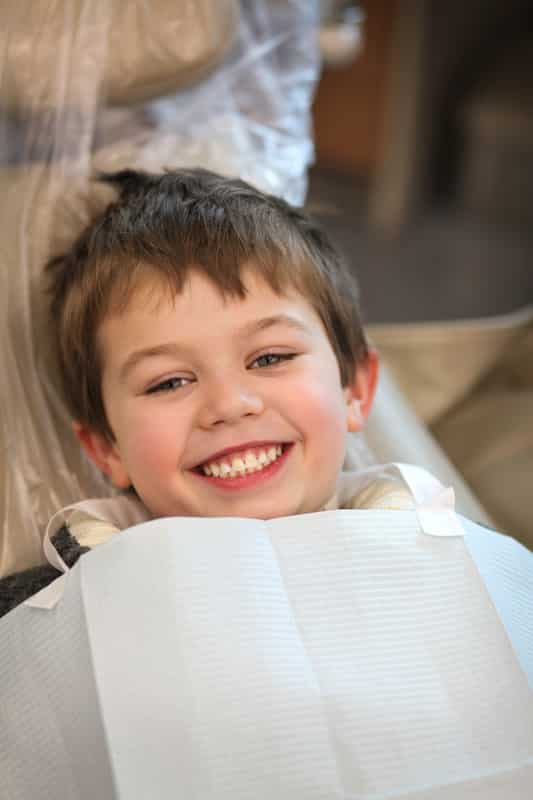 Preparing your child for his or her first visit with Dr. Kucera can set the stage for future success in building your child's confidence and assure a healthy attitude about dental health and the dentist's office.
There is little that is worse for a parent than to hear their child cry from fear at the doctor or dentists' office. Even the most stoic of parents has felt the sting of tears under these circumstances. With a little preparation, you can make visiting the dentist pleasant and positive for your child, reducing their stress and your own.
Here are some helpful tips:
Understand it is normal for your child to have a fear of the unknown.  They look to you to reassure them everything is fine.  You can best accomplish this if you are positive and explain things in words they understand. Simple, non-frightening words to describe the upcoming experience are helpful. Avoid talking too much about it, and don't use words such as drill, hurt, or needle.
The American Academy of Pediatric Dentistry and the American Academy of Pediatrics recommend that your child should visit the dentist before her first birthday. Your baby can benefit from early pleasant experiences, and you can get valuable information from us about early dental care and good oral hygiene habits.  We also provide education for you on risk factors for potential issues, so we can become 'partners' in your child's lifelong dental health.
Our team is trained to make kids comfortable with the process, to listen to your child and communicate in an age appropriate manner that puts them at ease. Besides the additional specialized training they receive, each of our team members has a love and respect for all children – from babies to teens.
What you can expect at your child's first visit:
Your baby's first dental visit is typically brief and involves an examination without treatment. Older children, who might be visiting us for the first time will be introduced to our office and our team before any treatment is done. This gives your child an opportunity to become acquainted with Dr. K and her team in a friendly setting.
Sometimes it may be best for you to hold your child during the exam, but in many cases the child actually has a better experience if Mom or Dad waits in the lounge area. Babies obviously are most comfortable while being held by a parent.  This can allow your child to develop a relationship with our team and builds confidence. We have one-way glass which allows parents to observe their child while she is having treatment, which enables us to gain her trust.
Dr. K will check your child's teeth for bite issues, look for healthy gums and make certain the teeth are erupting properly.  Depending on your child's individual needs and age, the dental assistant or hygienist may clean your child's teeth.   Dr. K will assess the need for x-rays or other treatments.  Gum health and the developing jawbone are also key areas to check.
Both you and your child will be given ample time to ask questions.  Dr. K will help you understand such important subjects as proper dental development, tips on helping kids learn to brush, which snack foods are best to ensure healthy teeth and gums and how nutrition plays a role. Oral habits, such as thumb sucking, lip sucking and tongue thrusting are also important to discuss early before any of these habits cause problems for your child.
Dr. K may also feel an assessment for potential future orthodontics may be in order.  She can give you peace of mind by providing you with information on expected developmental milestones, so you know what to look for as your child grows.
Preparing your child for his or her first visit is easy. You want your child to enjoy a lifetime of great dental health and a beautiful smile.  Our goal is to nurture a relationship from your child's first tooth to adulthood.
In order to help your first visit to be successful, please download the stories of Cora's dental visit to Caring Tree and Aiden's dental visit to Caring Tree.  Review the stories with your child so that you child knows what to expect and that we are not strangers.  If your child is sensitive to noises, please also use the videos that follow to help familiarize them to the sounds in the dental office.
20160904_102528 from Phyllis Orzalli on Vimeo.
20160904_102606 from Phyllis Orzalli on Vimeo.