Accidents Do Happen!
No matter how hard you try to protect your child from accidents, they do happen.  Childhood is a time of exploration and learning, and often children are simply not as aware as adults about potential dangers. We can help you know what to do when your child suffers a dental trauma.
Most traumatic dental injuries occur while children are enjoying sports events, or during automobile accidents or falls.  You can help minimize the occurrence of injury by doing the following:
Teach your child not to chew on ice, popcorn kernels or any other object which is harder than her teeth.
Always use car seats for young children and require older children to use seatbelts.
Mouthguards are available for sports activities.  We can help design the perfect preventive device for your child.
Prevent painful toothaches with regular brushing and flossing as well as routine visits to our office.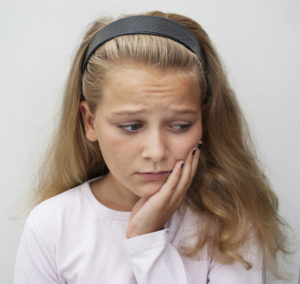 If you feel your child has a dental emergency, please call us immediately!  We are here to answer your questions and help guide you so you may do what is best for your child.
Here are some guidelines to help you determine if you have a dental emergency:
If your child has something stuck between her teeth, carefully use dental floss to attempt to remove it.  Don't use sharp tools or other objects as they may cause further injury.  If you cannot remove the item, please call us.
Chipped, broken or fractured teeth: If the piece has broken off, gently rinse it in warm water.  Use a cold compress to reduce swelling.  Call us immediately – we can often repair the tooth by re-attaching the piece.  Otherwise, a tooth-colored filling may be used.  Occasionally, if a significant portion of the tooth is broken, a crown may be necessary.
Injury to molars (back teeth) can include fractures or splits.  If the crack extends to the root, a root canal may be necessary.  Sometimes, a tooth must be extracted.
A knocked out tooth: Rinse the tooth in plain warm water, trying not to touch the root.  If possible, place the tooth back in its socket and hold it in place with a soft cloth.  If you are unable to return the tooth to its socket, you may put it in a small container with milk.  Call us immediately, or, if there is other injury involved, go straight to the emergency room.  Many times, if you are able to act quickly enough, we can save permanent teeth.  If your child has knocked out a 'baby', or primary tooth, we often don't re-implant it.  In this case, it is still vital to see us as soon as possible, so your child may be evaluated for potential jaw injury.
Broken jaw:  If you suspect your child may have a broken jaw, this is a medical emergency.  The same applies to a significant blow to the head or face.  Use cold compresses to help reduce swelling and visit the emergency room immediately.  If your child's teeth are in any way compromised, please call us while you are at the hospital.
Toothache:  If your child is complaining of pain or ache in a tooth or her jaw, rinse her mouth with warm water and carefully inspect her mouth to make sure nothing is caught between her teeth.  If the pain continues, contact us immediately so we may examine the tooth.  In general, avoid any aspirin or topical pain reliever.  Aspirin can cause blood thinning and some topical pain relievers can be toxic if swallowed or may cause damage to her gums. Children's pain relievers, such as Tylenol or Children's Motrin, may be taken orally.
With any trauma to your child, it is important to stay calm and follow the guidelines above.  Your child will look to you for reassurance, and she will handle the situation much more calmly if you are in control and soothing to her. Knowing ahead of time what to do if your child suffers a dental trauma will help you be more prepared.  If you aren't sure your child's situation is an emergency, please call us, and together we will determine the next best step.