Will my child need dental sedation? It's a question many parents ask us.
Most kids do just fine without sedation.  Our team specializes in making kids comfortable and confident with dental procedures.
Occasionally, though, sedation is a good idea.  If you feel your child might need sedation for any reason, Dr. K will be happy to discuss it with you.  Our goal is to make certain all our questions and concerns are addressed.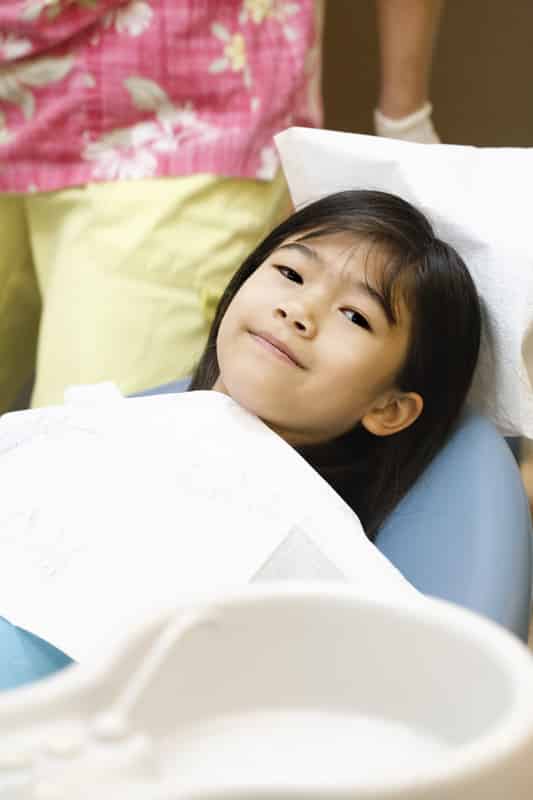 Some children can be extremely anxious when they visit the dentist.  If your child is very nervous, it may be difficult for her to sit still long enough for treatment.
Children with special needs, such as those with emotional issues or disorders, may benefit from sedation dentistry.  Some children with physical limitations find it uncomfortable to sit in the dental chair.
No matter what the issue, your child is precious and unique to us.  We will work together with you to ensure her dental experience is positive.  Here is some useful information about sedation:
Conscious Sedation

A very anxious child may do well with a mild sedative (medicine) that will allow her to become relaxed and somewhat sleepy.  Your child will still be able to respond to voices and will be aware of her surroundings.
Conscious sedation can be helpful when your child requires a lot of treatment, or has special needs.  Dr. K can discuss the various forms of conscious sedation with you and together you can decide which is best for your child.
The medicine can be administered in several ways:
Inhaling a gas
Swallowing a pill or syrup containing the medicine
Receiving an injection
Intravenous drip
Nitrous oxide
Also known as laughing gas, Nitrous Oxide is often helpful for children who are mildly anxious.  It helps to ease their fears, and allows them to receive treatment while remaining comfortable.
A safe and mild sedative, Nitrous Oxide is mixed with Oxygen and delivered through a mask.  Your child will breathe through the nose to receive the gas, and will quickly become less agitated.
Your child will be awake, and able to interact with the dentist.  It is quickly eliminated from the body, and as soon as the gas is turned off, the effects begin to wear off.  Your child will be given Oxygen for a few minutes after treatment, which helps flush the Nitrous Oxide out of her body.
For really young children, wearing the mask might be frightening.  In these cases, we typically recommend another method of sedation.
Occasionally, a child can become mildly nauseous with Nitrous Oxide.  For this reason, it is best to feed your child only liquids a few hours before her appointment.  If your child has a head cold or allergies, it may be difficult for her to breathe through the nose and postponing the appointment (if possible) might be best.
Oral Sedation

If your child is extremely anxious, she may need a more powerful medicine.  If Dr. K feels this may be an appropriate option, she'll discuss it with you.  Some things she'll consider are your child's level of anxiety, as well as her ability to follow directions and cooperate with treatment.
If oral sedation is used on your child, she will be very sleepy, but can be awakened.  She'll retain the ability to respond to simple instructions.
If this is the best option for your child, Dr. K will help you prepare.  Some of the considerations are:
When your child should last eat or drink prior to the procedure
What to expect during the treatment
Signs to watch for after treatment
Your child will be quite drowsy after the sedation, and may need to be carried to the car when released to go home.  For these procedures, you will need to plan on extra time to allow for your child to recover after treatment.
Sedation dentistry offers a safe and painless option for some of our patients.  If you feel this may be the right option for your child, let's talk about it.
Sometimes hospital dentistry can be the best option for your child.  The age of your child, amount of time necessary to complete the procedures, developmental issues,  or extreme anxiety/fear may be reasons to explore this option with Dr. K.