'Find a wild boar.  Ask it to hold still while you pluck the wiry hairs from its' neck. Then attach them to a stick and rub your teeth vigorously for 30 seconds.' 
Of course there was no instruction manual for making a toothbrush in 15th Century China.  The Chinese used boar's bristles attached to a bone or bamboo handle for their dental hygiene.  The wiry hairs were good at cleaning, but may have removed some of the users' enamel as well.  In Europe, those who wanted clean teeth opted for softer horsehair bristles. Even feathers had a brief appearance as toothbrush bristles, but they likely didn't get the job done.  A mouthful of feathers may not have been very appealing, either. The history of the Toothbrush and getting teeth clean is filled with trial and error while people struggled to find the most effective methods.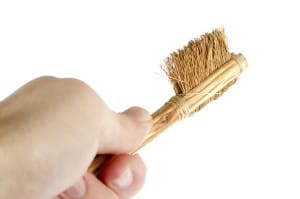 It seems that people have always been preoccupied with their oral health, or at least wanted to remove food from between their teeth.  Excavations around the world have uncovered animal bones and porcupine quills which were clearly used much like todays' dental floss picks.
The predecessor to the toothbrush was designed around 3500 B.C. Egyptians and Babylonians used 'chew sticks' – twigs with frayed ends – to brush their teeth.  These have been found in tombs unearthed where ancient civilizations lived and prospered.  In fact, the use of chew sticks is still common in parts of Africa, the rural Southern U.S. and in certain Islamic sects.
Chinese toothbrushes were brought to Europe by sea traders, and became popular in the 17th Century.  One of the earliest accounts of a toothbrush purchase was found in the autobiography of Anthony Wood, an antiquarian from Oxford, England who wrote that he had paid a J. Barret for a toothbrush in 1690.  Mr. Wood was, by all accounts, in interesting fellow.  It is reported that his hobbies included ploughing, bell-ringing and playing the violin.  Although he was described to have uncouth manners and a rumpled appearance, he evidently took his oral health seriously.  He lived to the ripe old age of 63, presumably with all his own teeth.