We limit sugar in our home. I don't understand why my child has so many cavities!
We hear this question a lot.  Many parents carefully avoid giving their children sugar. They limit candy, colas, cookies and sugary cereals. Some even eliminate white sugar altogether in their home.
Often, they are shocked when their child comes in for an exam and cavities are discovered.
Cavities are caused when bacteria (called Streptococcus Mutans) that naturally reside in our mouth consumes any type of sugar and then excretes acid. This acid eats away at the enamel, and allows tooth decay to begin. Children typically squeal in mock horror when they realize that bacteria 'poop' causes cavities. The more sugar for S. Mutans to eat, the more 'poop' it creates.
To paraphrase Shakespeare, Sugar by any other name is just as sweet.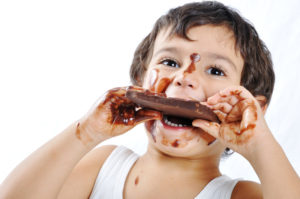 Just because the ingredients don't specifically list 'sugar' doesn't mean there aren't other potentially cavity-causing sugars included.  Here are some of the sugars that cause decay every bit as often as white sugar:
Lactose
Maltose
Malt Syrup
Sucrose
High-Fructose Corn Syrup
Maple Syrup
Corn Sweetener
Corn Syrup
Dextrose
Fructose
Syrup
Glucose
Honey
Agave Nectar
Cane Juice
Fruit Juice Concentrate
It's quite a list.  And it's easy to be lulled into thinking a product is okay because labeling allows manufacturers to make claims such as 'No Sugar' on products made with High-Fructose Corn Syrup. We recently found a bottle of pancake syrup labeled 'No Sugar' that had High-Fructose Corn Syrup as the main ingredient.
Other products may be labeled 'No Added Sugar', or 'No Refined Sugar'.  On some products containing pure maple syrup, cane juice, Agave nectar, honey or fruit juice concentrate, the package may even say 'All Natural'. Just because something is 'All Natural' it doesn't necessarily mean that it's healthful for your child.